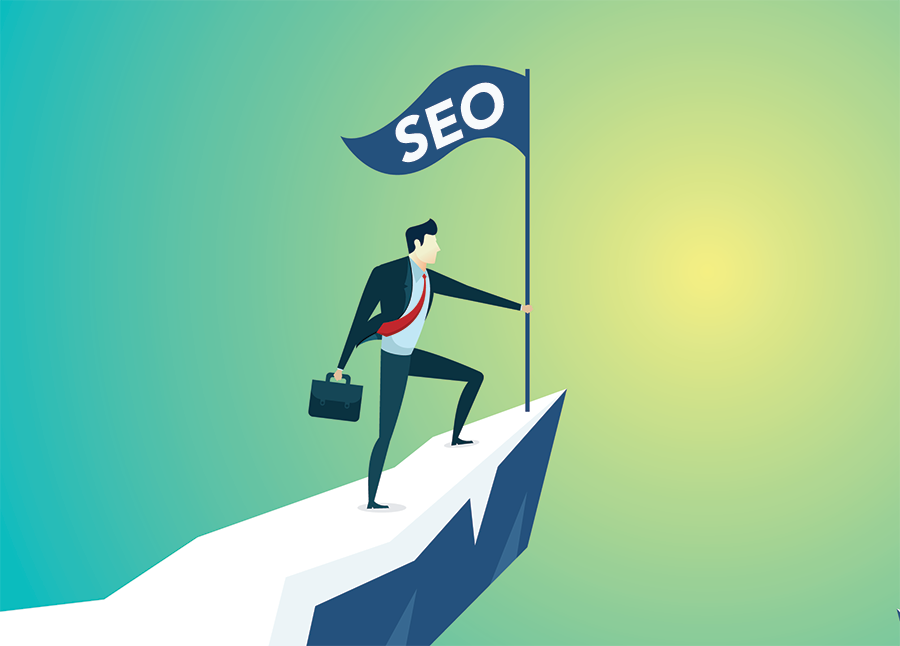 Why is Keyword Golden Ratio Important in SEO?
Finding the best keywords to help your business rank well to stay ahead of the pack is difficult. You either have a strong site so you can go after high competitive keywords or you just have started, and you need to start building on your website's strength, in which case going after longtail keywords with fewer competitors would be a good strategy. Luckily, there is a great way to find the low-hanging fruits of keywords – the under-utilized words that will help you rank high in no time leading to more customers and building on the strength of your website.
Using the Keyword Golden Ratio technique, you can do just that. Thanks to the mind of Niche Site Project and Doug Cunnington, you can find keywords that aren't as competitive to help you bound over your competition.
KGR is an equation that helps site owners find the keywords they may be missing out on, but that can help them rank on the first page of Google quickly. Take the number of Google results with the keyword or phrase in the title, then divide that number by the local monthly search volume (when LMS is less than 250). If the result is less than 0.25, you can assume you will see your site ranked in the top 100 sites with just basic on-page optimizations and quality content. A KGR result between 0.25 and 1 will find you ranking in the top 250.
How does this help you?
Utilizing KGR can help you find keywords and phrases that aren't being used as often by your competition, meaning you can come in and rank well for them. You can discover in-demand search terms that can help drive business your way.
To implement KGR, begin by finding the keywords that are relevant to you. To find relevant keywords, you can either guess what your audience might search to find you or search for your most important keywords on Google and scan through the sites that show up on the first page to see what other keywords they have used. You can also look at the bottom of the search result pages where it shows what else people have searched. You can repeat this process for a few different keywords and put together a list of relevant terms.
To find as many relevant keywords as you possibly can, you need to use a "keyword suggestion tool." A keyword suggestion tool utilizes different methods to find related keywords, and thanks to automation, it can do it in just a few minutes. Some of the main ways used by keyword suggestion tools to find relevant keywords are:
Search engines auto-suggestion results
Search engine people also searched for results
Analyzing the content of the sites that rank high for similar keywords
How to find relevant keywords using a keyword suggestion tool?
A keyword suggestion tool asks you to enter a seed keyword or a domain name and then outputs hundreds of relevant keywords. Some of the keyword research tools you can use are:
Answer The Public
KwFinder
Uber Suggest
LSI Graph
Allintitle.co
Now you need to find the monthly search volume for each keyword. Most of the above keyword research tools also give you the monthly search volume. You can export the list of found keywords to a CSV file with the keywords listed on the first column and search volume on the second column. You then need to go through this list, eliminating the not-so-relevant ones and also filtering for those that have only a monthly search volume less than 250 (remember that to find KGR keywords, we want only keywords that have no more than 250 searches.) These are the keywords that have fewer searches and fewer competitors too.
However, the total monthly search volume isn't the only important number to look at, and you also want to make sure the competition is right. For this reason, KGR formula takes into account the overall number of web pages using that keyword in their title tag, allintitle volume helps us with this. Now you need to get the allintitle amount for each keyword in your list to determine the KGR to find the KGR keywords. To do so, you need to search for each keyword on Google using the allintitle operator, for example, for "KGR Checker" keyword you search like this:
allintitle: Keyword Research Tool

In the above search term the "allintitle" is a google operator and Keyword Research Tool is our example keyword.
And then, in a new column next to the search volume in your CSV file, write down the number of results google shows for each "allintitle: keyword" search. Repeat this for all the keywords in your list.
Two things that you need to keep in mind, here:
The allintitle operator must be typed only in lower case. If you type in the first letter or the entire allintitle word in upper case, you won't get the correct result.
Putting the keyword part in the quotation mark or not will also make a difference. If you put the keyword part in the quotation mark, it will narrow down results to only the sites that have your keyword in their title in the exact sequence of the words that are in your keyword. If you don't put the keyword in the quotation mark, it will return all the sites that have any of the words used in your keyword somewhere in their title tag, not necessarily in the exact sequence of the words used in your searched keyword.
Now that you have both monthly search volume and allintitle count for all your keywords, you can calculate KGR with this formula:
KGR = Allintitle Volume / Search Volume
What is a Good KGR Keyword?
A KGR keyword is a keyword that falls under the following two rules:
It has no more than 250 search volume
It's KGR value equals or is less than 0.25
It is important to note that while 0.25 is considered ideal, it is only a general rule of thumb – you can use whatever threshold works best for your business. Also, you may find a keyword that has a search volume of more than 250, but it only appears on several dozen websites. That keyword may still be one that can work for you and allow you to rank high on Google.
Calculating KGR manually or using automation?
If you have ever done KGR research, you might have noticed that it's a very tedious, time-consuming task. You need to hop back and forth between different tools to get relevant keywords, search volume, and then search on Google for each keyword to get the allintitle amount. It's a long,  long process. On Google, after a few searches, you will face a captcha that you have to solve before you can continue searching for the next keyword. This captcha will get harder to solve every time it appears because Google, seeing an increase in the number of searches you do back to back, wants to make sure that you are not a bot. Solving this captcha every once in a while will make the process of finding allintitle counts even lengthier.
Is there any tool out there that calculate KGR for a list of keywords at once?
Fortunately, automation can come to your help. The Allintitle.co KGR Checker tool can calculate the KGR for a big list of keywords in just a few minutes. It also helps has a keyword suggestion tool that can provide you with hundreds of relevant keywords and key phrases for a seed keyword.
How to do KGR research using Allintitle.co
Here is a step by step guide to perform KGR research and find the best KGR keywords for a seed keyword using allintitle.co in under a few minutes.
Sign up and log in to your allintitle.co account
If you don't have a relevant list of keywords (If you already have a list of keywords go to the next step), navigate to the keyword suggestion tool by clicking on its link from the sidebar. Add a seed keyword and wait for the results to show up. On the result page, export keywords from different sections into a CSV file and put them together and go through the list to eliminate not-so-relevant ones.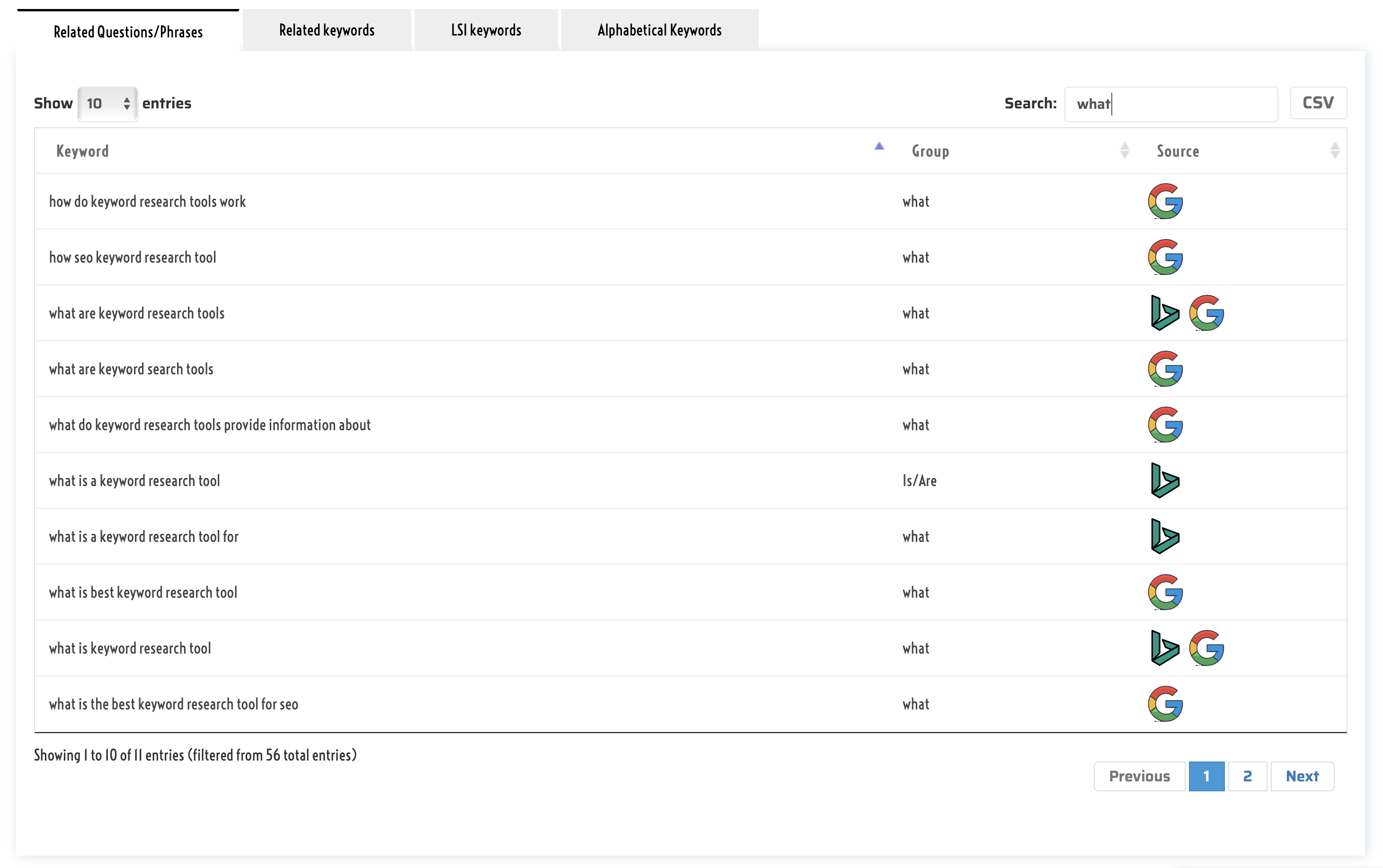 Now click on the bulk keyword checker link from the sidebar and copy/paste your keywords into the provided search field and give your project a name and click on import.
Wait a few minutes and then navigate to the result page to see the KGR value for each imported keyword along with other useful keywords metrics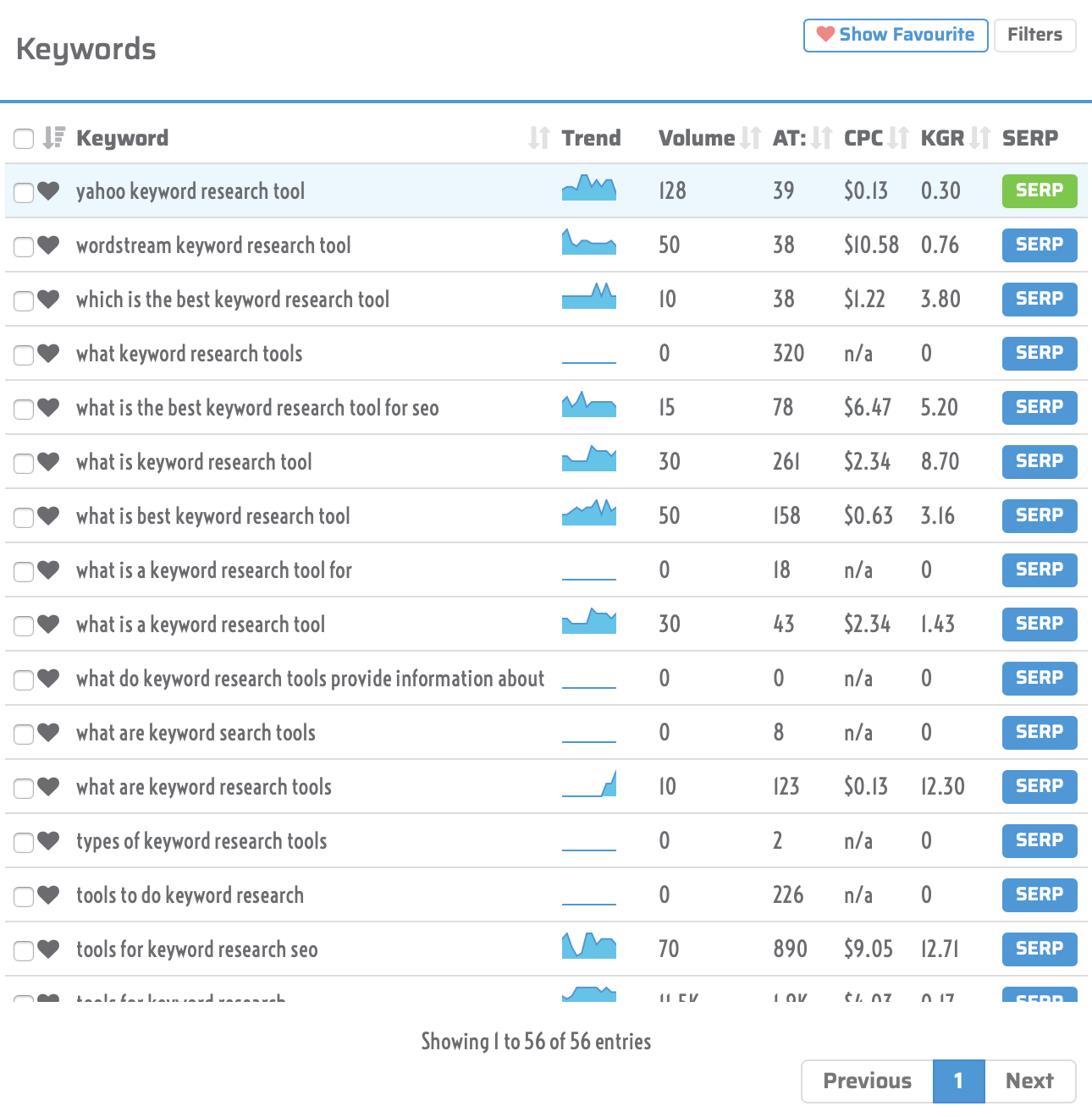 Filter results for KGR value less than 0.25 and search volume of maximum 250.
Voila! you have found your KGR keywords
What to do after you've found your KGR keywords?
You need to create quality content in the form of a blog post or web page and optimize it with correct on-page optimization techniques. Try to use your KGR keywords naturally throughout the page in the title tag area, in the description tag in the first paragraph and last paragraph of the content as well as naturally throughout the text, remember not to over-optimize.
Finding the right keywords to rank high on Google can give you a competitive advantage in a competitive market. KGR does just that by allowing you to put under-utilized keywords to use. It will enable you to use the keywords people are searching for, but your competitors haven't started using them yet. And if you are newer on the scene, KGR can help you leap over more established competitors.
SEO can come down to being found when and where people are looking for you and KGR work for you to do just that – be found using the keywords and phrases your potential customers are using.