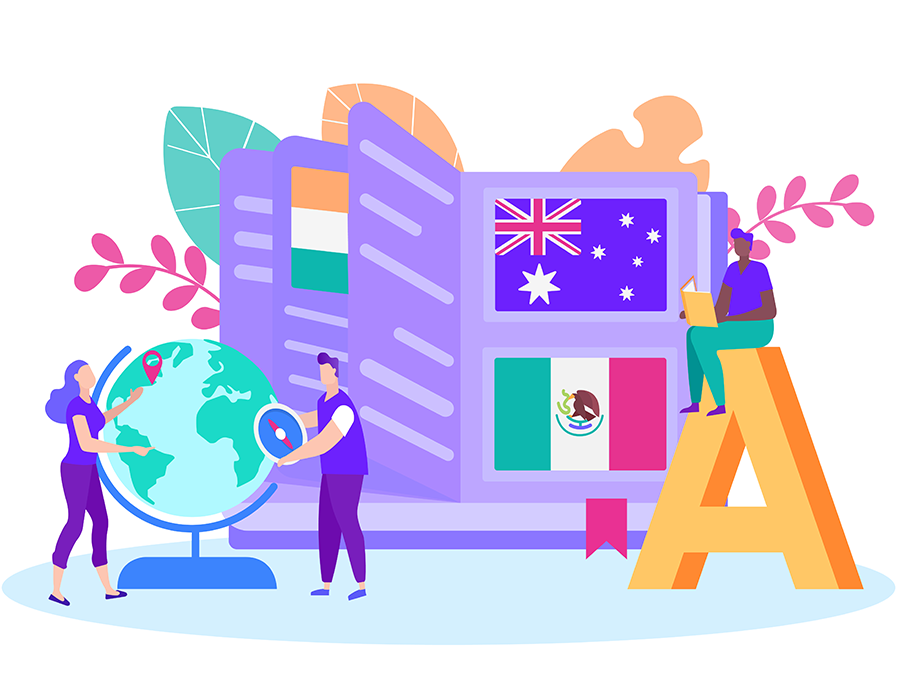 Get Precise KGR Results for any Locations/Languages
Allintitle is pleased to announce a new addition to its list of core features. Now, you can get allintitle/KGR results for any geographical locations and languages. Allintitle's new geo local feature allows you to run your KGR research while targeting a specific geolocation and language with high precision. You can now get laser-focused precise allintitle, search volume and KGR results for any country, city, zip/postal code, or even any neighborhood and different languages.
This update to Allintitle's core features is easy to use while importing your keywords to the Allintitle.co KGR analyzer, allowing you to get the geo-precise KGR value for any location or language you want to target.
This geo local feature can be accessed and configured using the new "Advanced Settings" button added to the footer of the box (as shown in the picture below), where you add your keywords for KGR analysis.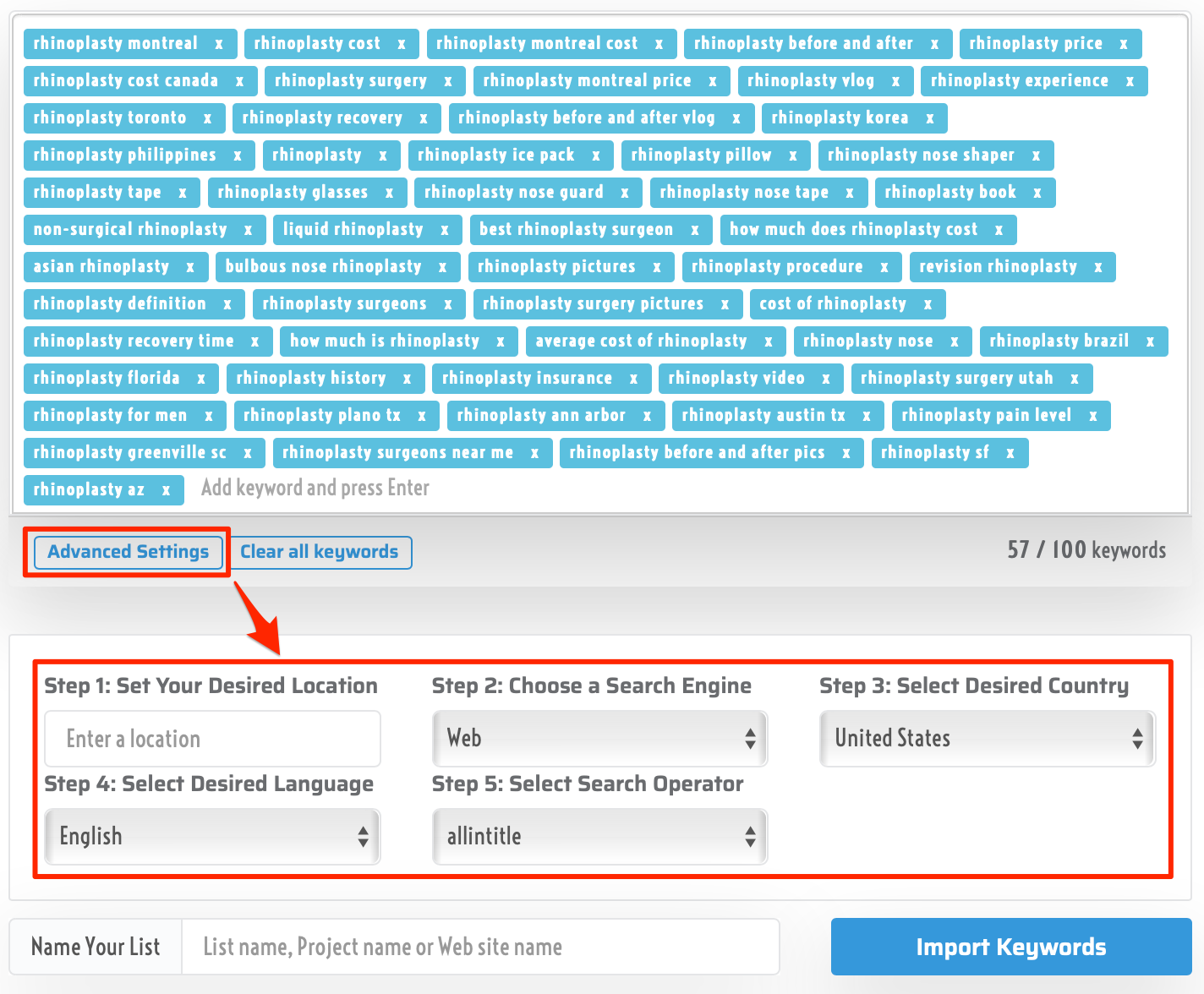 Using Allintitle's new Advanced Settings, you can set your target geolocation, language, search engine type, and even use a different Google search operator to calculate KGR with (other than allintitle.)
With the "Advanced Settings" you can set:
Geo-Localization: Set location for which you want to get the allintitle, KGR, search volume data.
Search Results Language: Set your desired language, supported languages are: English, German, French, Spanish, Italian, Japanese, Danish, Dutch, Finnish, Korean, Norwegian, Portuguese, Portuguese (Brazil), Swedish, Chinese (simplified), Chinese (traditional), Arabic, Bulgarian, Czech, Greek, Hindi, Hungarian, Indonesian, Icelandic, Hebrew, Latvian, Lithuanian, Polish, Russian, Romanian, Slovak, Slovenian, Serbian, Ukrainian, Turkish, Catalan, Croatian, Vietnamese, Urdu, Filipino, Estonian, Thai, Bengali, Persian, Gujarati, Kannada, Malayalam, Marathi, Malay, Tamil, Telugu
Search Operators: If you happen to need to get results for other search operators in bulk, now you can because we added them for you. Other Google search operators available now are: allinanchor, allintext, allinurl, inanchor, intext, intitle, and inurl.
Search Results type: With the advanced settings, you can also get allintitle and KGR results not only for Google web results but also for videos, books, and news results.
Why should you use Allintitle.co instead of calculating KGR manually with a spreadsheet?
More precise results – With Allintitle.co KGR tool, you can target any geographical locations. When you do it manually, you don't get accurate allintitle results. This is because if you are in Melbourne and want to target entire Australia, you will be served Google Melbourne results and not country-level Australia results. Your Melbourne results, which most probably is different from Sydney results, is certainly different from country-level Australia results. 
Based on your search history, you might be served the Google personalized results that make your allintitle results biased and inaccurate. This can be the case even if you are not logged in to your Google account or even if you use an incognito browser. This is because Google can associate your IP address with your search history.
Manually searching will end you up getting your IP banned by Google. After a few searches, you will get a CAPTCHA to solve, which increases in difficulty with every new search. Even if you successfully solve the CAPTCHA, after a while, you will see a blocking message that says you are blocked now. When this happens, you have to wait for several hours for the block to be lifted from your IP address, during this time, you can't even use Google for your regular searches.
Using a VPN may not be as accurate and can still result in being blocked by Google. Google can detect your actual location, even when using a VPN. If you use a VPN, your result might not be as accurate as you think they would be. With a VPN, you will still have the problem of getting blocked by Google. Your VPN IP is probably being used by so many other people, so you might even face getting blocked by Google even faster. Also, Google can detect your actual location even if you use a VPN. Yes, Google can identify your real location by reading your computer's time zone, default keyboard language selection, browser history, etc.
Even if you handle all the above problems, you still need a subscription to a keyword research tool to get the search volume to be able to calculate KGR for your list of keywords manually. With Allintitle.co, you don't need to use any other keyword research tool because we offers an all-in-one, turnkey KGR calculator. Allintitle.co also has a keyword suggestion tool that can help you put together a list of keywords for your KGR analysis.
Benefits of using Allintitle.co KGR tool:
You can get KGR results for hundreds of keywords in a matter of a few minutes.
You get unbiased, accurate, geo local laser-focused results not just for your home location but for any location/language you want to target in the word
With Allintitle.co, you don't need to have a subscription to another keyword research tool. You will get search volume, trends, SERP overview and all other keyword metrics with your KGR research. We also have a keyword suggestion tool that you can use to find hundreds of relevant keywords for any seed keyword.
You don't need to install any software on your computer. You don't need a subscription to proxy services, etc.
You can keep a history of your research on your Allintitle.co account for as long as you need them, you don't need to have a subscription to access the history of your search.